---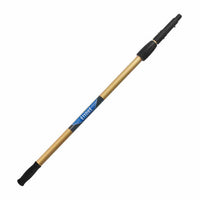 The Ettore REA-C-H Extension Poles make an excellent all-purpose pole that works with many different accessories. All of the professional squeegees and washers on our site will work with this line of poles. Some Ettore pole accessories, like the bulb changer, will work only with the Ettore REA-C-H Extension Pole.
These poles come complete with a Pro+ Pole Tip (1700).
Available in 1, 2, 3, or 4-section poles in various sizes.
Ettore Part Nos. 42102, 42104, 42108, 42112, 1680, 1684, 1688, 1692, 44218, 44224
Please Note: Some poles are too long to ship UPS/Fedex/US Postal. These poles are not listed on the website, but may still be available for special order. Please call us for details.