---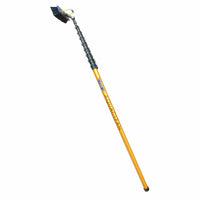 The all new Ettore Gold Aquaclean Waterpole system is designed to deliver the precise balance between rigidity and weight without sacrificing strength or durability. Each waterpole has an aluminum outer tube that provides added strength while also protecting the expensive carbonfiber inner poles.
Rebuilt from the ground up, we're sure you'll like the new Ettore Gold Aquaclean Waterpole.
All waterpoles are shipped complete and ready to use with a 14 inch brush, gooseneck, and pole hose with garden hose sized connector
Available in 18, 25, 35, 45, 55, and 65 feet lengths.
Model
Weight
Collapsed length
18 ft
2.43 lbs
54 in
25 ft
3.69 lbs
67.5 in
35 ft
6.42 lbs
72 in
45 ft
7.86 lbs
79 in
55 ft
8.9(more...)