---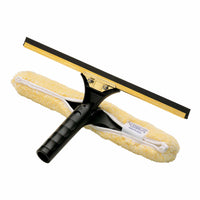 The Ettore Brass Backflip is the perfect balance of speed and performance - one tool, four uses! With the touch of a button, you can use the pieces individually or in multiple time-saving combos!
This product comes as a complete unit with all you see in the pictures - complete squeegee with rubber, washer t-bar with sleeve, and a combination, reversible handle.
Also available in stainless steel.
Available in sizes 10, 14, and 18 inch.
Ettore Part Nos. 71100, 71140, 71180
Each Backflip has a squeegee rubber two inches longer than the washer (and advertised size). Please remember to adjust when ordering replacement rubber.