---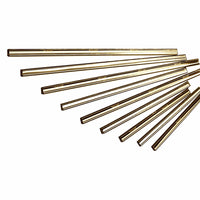 Ettore Master Brass Squeegee Channels are the perfect tool for professional window cleaners. Made from high-quality brass, these channels are durable, rust-resistant and provide a smooth gliding action for efficient cleaning.
The channels come in a variety of sizes to fit different squeegee handles and can be easily replaced when worn.  Sized from 6" to 22" are available for your efficiency!
Whether you're a seasoned window cleaner or just starting out, Ettore Master Brass Squeegee Channels are an essential addition to your toolkit.
Ettore Master Brass Channels are the original, hand inspected (Seriously!) squeegee channel for exceptional quality control.
Each channel is sold with one Ettore Master rubber squeegee blade already installed. Variety and selection of handles sold separately.
Rubber is held in place with squeegee clips at both ends - the preferred design of the window cleaning professional!