---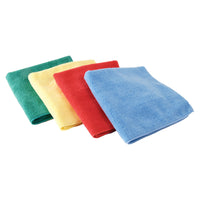 As you would expect from Ettore, the Microswipe Cloths are high-quality, all-purpose microfiber towels to assist in all your window cleaning needs. They are thick, highly absorbent, and lint-free.
With the Ettore MicroSwipe, cleaning has never been easier. Advanced microfiber technology combines friction, static electricity, and capillary action to absorb and remove micro-particles, dirt, oils, and moisture. Split, microscopic strands lift and hold all types of dirt and grime until washed so dirt won't spread to other surfaces.
Features:
10% more microfiber than the competing brand
Heavy-duty microfiber cloth with a minimum of 700 washes per cloth
Four colors to assure no cross-contamination between jobs
The Ettore 16x16 Inch MicroSwipe Cloths are available in a multitude of colors - blue, red, yellow, and green.
This is a pack of 10 cloths of one color.
Ettore Part Nos. 84410, 84411, 84412, 84413