---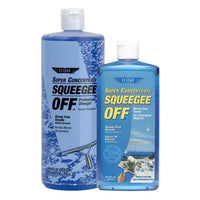 Ettore Squeegee Off is a highly effective window cleaning solution that is designed to remove even the toughest grease, grime, and mineral deposits from glass surfaces. This powerful cleaner is made with a special formula that dissolves dirt and buildup, leaving windows sparkling clean with minimal effort.

The unique formula of Ettore Squeegee Off is safe for use on all types of windows, including tinted and coated glass, and it is gentle enough to use without damaging the surface. The solution is easy to apply, simply spray it onto the glass and let it sit for a few minutes before wiping it away with a squeegee or cloth.

The solution is also highly concentrated, making it economical and efficient to use.
Ettore Squeegee Off is an essential tool for window cleaners, as it helps ensure a professional-looking result and eliminates the need for repeated cleaning. Mix 1 ounce to 1 gallon of water for the perfectly mixed, ready to use solution.
It is also great for use at home for those looking for an effective and easy-to-use solution for keeping their windows clean.

Whether you are a professional window cleaner or simply looking for a powerful and effective solution for cleaning your own windows, Ettore Squeegee Off is a must-have product that will make the job easier and more efficient.

Features:
Professional formula
Dissolves tough dirt, grime, and grease
Provides streak-free results
Ammonia free
Super Concentrate
Available in a 16oz or 30oz bottle.
Ettore Part Nos. 30116, 30130