---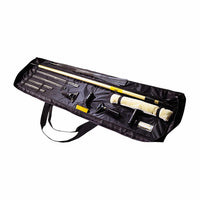 Overstock Sale!
Was $198.95
Now $99.95
Limited quantity so buy today!
Make window cleaning easier and quicker with Ettore's window cleaning kits! They are available in a variety of sizes for a variety of needs. These kits are perfect for home owners or professionals alike, filled with professional grade cleaning tools.
Clean windows like the pros with the Ettore Window Cleaning Kit with Case!
This kit includes the following items:
1x Stainless Steel Quick Release Squeegee Handle
1x Super System Squeegee Handles
1x 10 Inch Stainless Steel Squeegee Channel
1x 12 Inch Stainless Steel Squeegee Channel
1x 14 Inch Stainless Steel Squeegee Channel
1x 18 Inch Stainless Steel Squeegee Channel
3x 10 Inch Master Squeegee Rubber
3x 12 Inch Master Squeegee Rubber
3x 14 Inch Master Squeegee Rubber
3x 18 Inch Master Squeegee Rubber
1x 14 Inch Golden Glove Complete Washer
1x 4 Inch Scrapemaster Scraper
1x 4 Inch Scrapemaster Scraper Replacement Blades
1x 8 foot 2-section REA-C-H Exten(more...)