---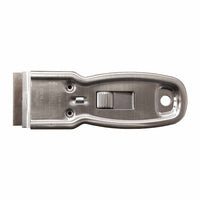 Ettore offers a line of great scrapers that can be used on glass.
We also stock replacement caps for all our Ettore scrapers. Do not allow a broken or missing cover cause you to have an accident!
The Ettore Pocket Scraper uses standard #9 razor blades. The blade extends and retracts with your thumb for easy access and safety.
Replacement blades: