---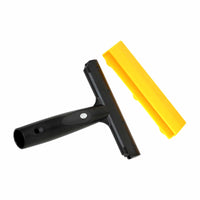 Ettore offers a line of great scrapers that can be used on glass.
We also stock replacement caps for all our Ettore scrapers. Do not allow a broken or missing cover cause you to have an accident!
The Ettore Pro+ Scraper with ergonomic no-slip grip is a 6" contour scraper featuring a double-edged blade.
Replacement blades:
E-1045 Stainless Steel - Grey Box (10 pk)
E-1043 Carbon Steel - Black Box (25 pk)
Replacement cover:
Replacement blade tracks: